Give Back by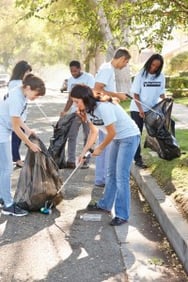 Clearing Roads of Litter
Giving back to your community isn't always an easy task. In some towns, everything that needs to be done may have already been completed.
This may seem discouraging at first; however, it is important to remember that road side litter pick up is a service that is always needed. When you volunteer for road side litter pick up, you will always find an area to clean.

Get a Sense of Accomplishment
Cleaning isn't always am easy task. Just because you have your grabbing tool and a trash bag doesn't mean you will get the job done effortlessly. A Litter Pick Up Tool is only as productive as the person using it.
As you pick up each piece of litter, you may feel bored or tired. Use the litter pick up tool to not only speed up the process, but reduce stress on your body as well. Bending over repeatedly, even to pick up something light weight, can add unwanted stress to your back and arms. The grabbing tool makes it so that you can stand upright the entire time. Because you will be standing and walking, rather than bending over, you will also be able to easily see the progress that you have made. This can be very encouraging and can help motivate you to continue the job.
Keeping America's Roads Clean
Road side litter pick up is a great way to build your community up. Travelers will see that your roads are clean and get a better impression of your city. Those living in the area will also take notice of the improved road conditions and feel a sense of pride. It improves home resale values, too.
Keeping America's roads clean with the help of a Grabber Tool. Litter Pick Up can be a difficult task, but it is well worth it. You will feel good about yourself and your community once you have cleaned an area. This makes road side pick up one of the most rewarding volunteer efforts that don't require professional training.

Invest in a litter pick up tool and start making your town more beautiful. You will be surprised by how good those around you will feel.