School Spirit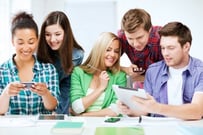 The way you feel about your school has a lot to do with how the campus looks, but the way the campus looks also has an impact on the way others feel about your school. How would you feel if you visited a campus with litter and trash all over the ground and graffiti covering lockers? It might make you think twice about spending any time there and make you wonder if you remembered to lock your car doors. Cleaning up your campus can also foster school spirit and work well as part of a spirit week or homecoming week. You can plan something as simple as a litter clean up day or something a little more elaborate
Cleaning Your Campus
Before you can start cleaning up your campus, you need to give some thought to what you hope to achieve. Do you want students to take pride in their work and keep cleaning up every day? If so, you want to install in students a sense of pride in the community. Explain that making the campus look good reflects better on students and shows the community at large that they care about the school. While planning a litter pick up day might get rid of some trash, it's likely that the problem will return unless students commit to keeping the campus clean.
Provide Students With Tools
You can't expect students to clean up the school campus without giving them the right equipment first. Reachers and grabbers are two of the best tools for the job. Grabbers typically have some type of claw or grasping tool at the end that wraps around larger or heavier objects. Reachers have telescoping handles or handles that extend to reach items further away. Other types of tools look like sticks with a sharp end that lets students pick up trash without getting their hands dirty. Make sure that you provide students with plenty of trash bags and gloves too.
Recycling Programs
While instituting a litter pick up day or event, you might want to think about adding a recycling program too. Placing brightly colored bins around campus shows students where they can place their old papers, water bottles and soda cans. This encourages students to recycle things they might otherwise throw away and reminds them that there are alternatives to littering. The harder students work together to clean up their campus, the more they'll feel a sense of pride in that campus.