If your occupation is janitor work, you know how important it is to protect your back muscles by being able to reach for, grab strongly, and pick up litter and other objects with helpful tools such as janitors reachers & grabbers.
There is an excellent selection of such products available to make your job much easier and quicker. Fortunately, what appears to be simple has excellent benefits that will make your working life more productive and more comfortable. See the new TrashGun and extral long reacher below...
The NEW TrashGun™ quick draw reacher with holster.

This grabber is made from stainless steel and aluminum, has a plastic handle, and folds in half for easy storage. The reacher holster is to store the grabber when it is not in use and free up your hands; it is durable ABS plastic with a nylon webbing strap. You can carry it like a gunslinger or attach it to a riding mower or other vehicle. The total weight of the two is only 15 ounces, and you save more than 10 percent when you buy the both the reacher and the holster.

Extra Llong EZ Reacher® Pi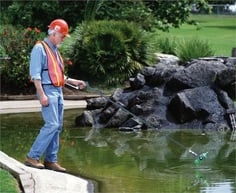 ck Up tool
This is a professional grade reacher that is very strong and is the premier heavy duty grabber. It comes in a number of varieties for different purposes, is available in lengths of 23, 36, 44, 60, 72, 96, 120 and 144 inches, the grabbers 60-144" are collapsible in two or three sections. Each has a jaw that opens to 4.5 inches, has stainless steel "fingers", and can handle up to eight pounds.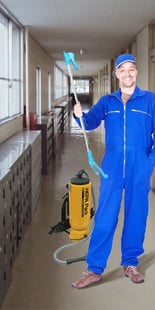 Mammouth™ Grabber
With fingers that open to 5.25 inches and a depth of 4.5 inches, this is the deepest and widest jaw opening of the available reachers. Its quick action trigger requires very little movement to close the finger end. It is recommended for large light-weight objects such as grabbing paper items such as towels and toilet tissue off a top shelf and for faster pickup of pieces of paper and other litter. The capacity is four to five pounds.
A steel rod is used as linkage for quick trigger action, there are no rubber cups that could come off or need to be replaced, the shaft is lightweight, and there is a simple internal lever action containing few parts so that your Grabber will last long. The strong and angled graspers are made of ABS plastic, have an improved grasp, are rust proof, and are easy to clean. Available lengths are 16, 28 and 36 inches.
You are welcome to come and see the extensive collection of janitors reachers & grabbers here at ArcMate.com by clicking here
Our friendly and knowledgeable staff will be happy to discuss these helpful tools with you.